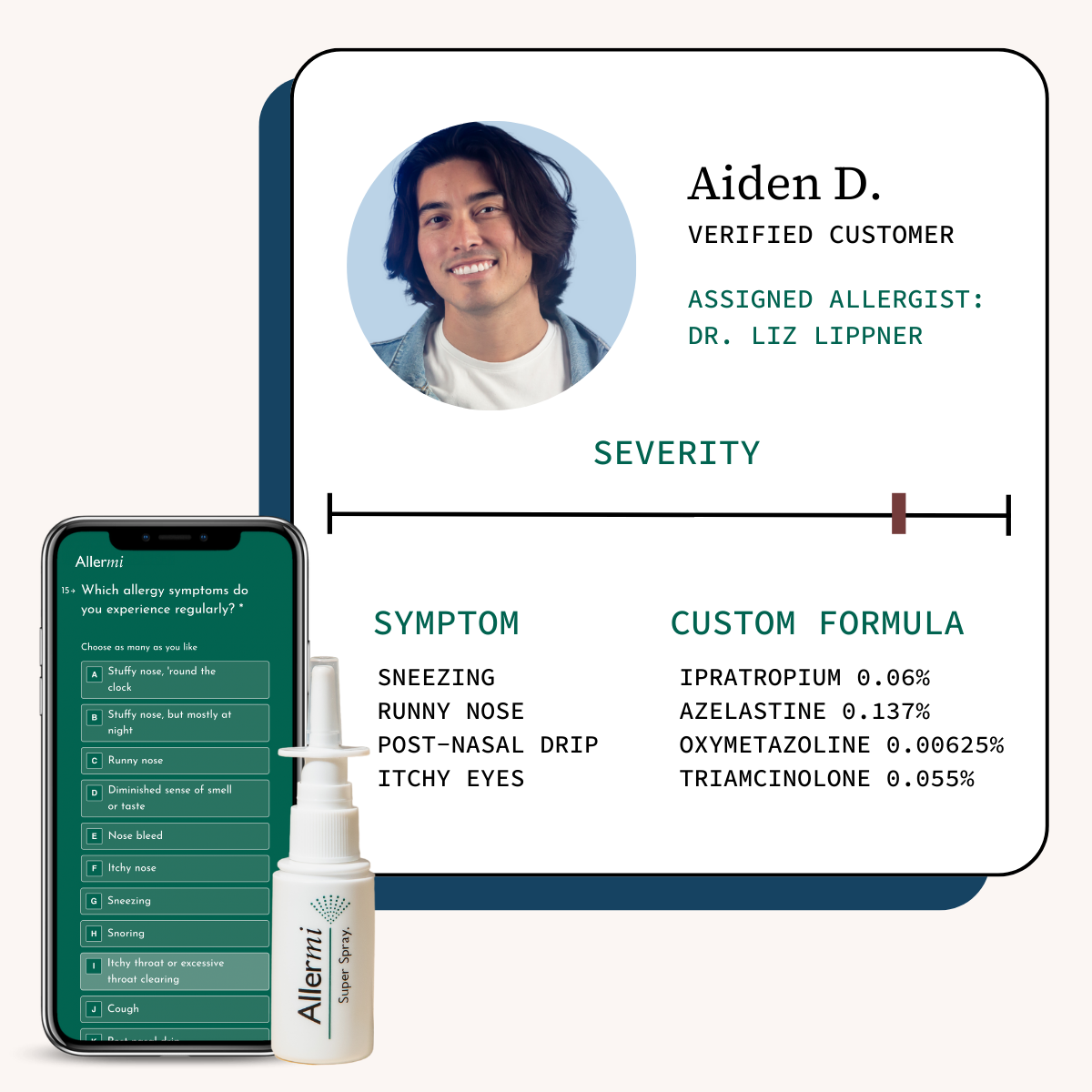 targeted ingredients at precise dosages. all in one bottle.
If your allergies are anything like ours, you know that one-size-fits-all drugstore allergy relief just doesn't cut it.
Over 90% of Allermi patients experienced superior relief vs. previous solutions
We use custom combinations of clinically-proven ingredients to address ALL your symptoms in one simple spray.
START FREE TRIAL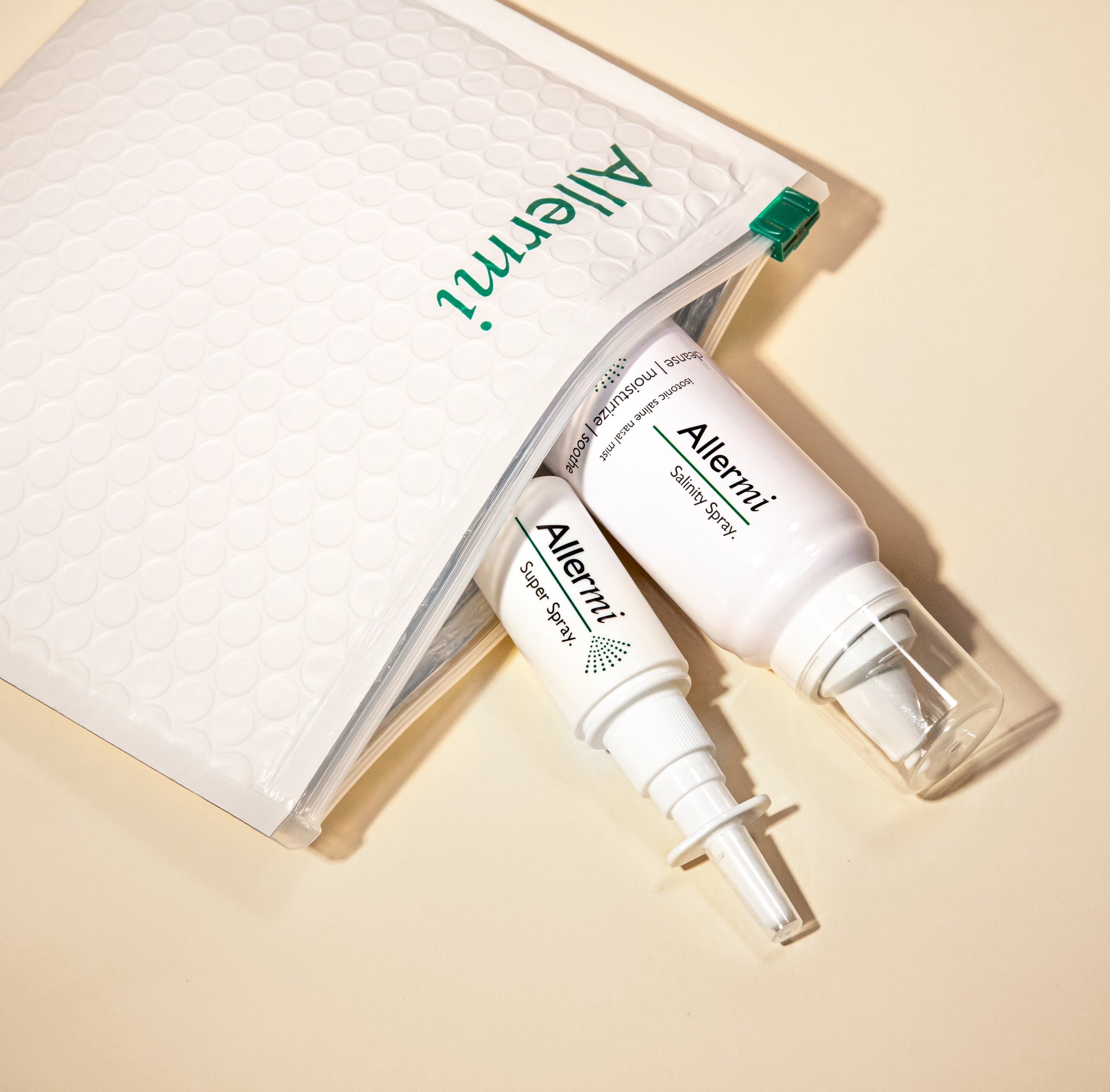 CUSTOM NASAL SPRAY
4.74
|
1,375 Reviews
Comprehensive allergy care delivered to your door

Stop wasting time and money on allergy meds that don't work. No more waiting weeks or months to book an allergist. Get a custom formula in a single nasal spray and access to our top-tier allergists from the convenience of home.
What's Included:
📝 Free online allergist consultation ($25 value)

🔬 Super Spray: a custom prescription nasal spray formulated with up to 4 active ingredients for your specific symptoms

🌊 Salinity Spray: a moisturizing saline nasal mist to help hydrate and soothe your nasal passages

👨🏻‍⚕️ Unlimited access to our medical team to ensure optimal relief
How It Works
Getting complete relief is as easy as 1, 2, 3.
Start Trial
01 Intake Questionnaire
Tell us all about your medical history and allergy symptoms using our secure portal
02 Get Your Custom Spray
We combine the best ingredients to relieve your symptoms into a single bottle and mail it to you
03 Ongoing Care
Message our medical team at any time to ask questions or improve your formula
Get Started
Say goodbye to nasal congestion, itchy eyes, runny nose, sinus pressure, post-nasal drip, sneezing...

⭐⭐⭐⭐⭐
"Allermi has been a homerun. I have been using it nonstop and have had no symptoms. It also seems gentler on my nose than some of the other allergy sprays I have used."
Josh S.

⭐⭐⭐⭐⭐
"I was actually able to measure improvement in my sleep quality using my sleep monitor. I've been chronically congested since I was a kid and this is a life-changer.
Carly R.

⭐⭐⭐⭐⭐
"We're very grateful for Allermi -seasonal allergies 100% fixed. Seriously before the nasal spray, no amount of Zyrtec + Benadryl was working. Now we're set with just one spray per nostril."
Maya E.
Frequently Asked Questions
What allergic conditions does Allermi treat?

We currently treat rhinitis, which means inflammation of the nose, and is also known as nasal allergies or hay fever. We are not currently treating any other conditions.
What are the active ingredients in Super Spray?

We use custom combinations and doses of up to 4 of the following active ingredients: 

Oxymetazoline (decongestant) for congestion and stuffy nose (note: we use micro-doses of this ingredient to prevent side-effects) 

Azelastine (antihistamine) for sneeze and itch

Ipratropium (anticholinergic) for runny nose and post-nasal drip

Triamcinolone (anti-inflammatory) for allergic inflammation
Am I guaranteed to be prescribed a medication?

You will receive a prescription for your custom medication only if deemed appropriate and safe by our allergists after they evaluate your consultation questionnaire. We are currently treating patients 18+ in select states.
Do I need to be allergy tested before signing up for Allermi?

Nope! Allergy testing is not required before signing up for Allermi. We treat the symptoms of allergy, so whether you're allergic to cats, dogs, dust, pollen, grass or more, we can help relieve your symptoms. 

Our allergy care team may suggest formal allergy testing at an allergist's office local to you, depending on how you respond to treatment.
Does Allermi accept health insurance?

No. We strive to give you outstanding service and value for one simple price, and do not accept insurance at this time. However, our treatments are covered as a health expense under your HSA (Health Savings Account) or FSA (Flexible Spending Account).
Am I able to request a formula change?

Yes. If you feel your nasal spray formula is not working for you, you can message your allergy care team at any point to request a change. Your care team will correspond with you to evaluate your symptoms. If they determine that a formula change is the best solution, your new prescription will be sent to the pharmacy within 48 hours. No allergy relief has ever been this custom before!